SURREY HILLS COTTAGE HOLIDAYS
2 Lime Tree Cottages and The Nest are situated in Ranmore Common, a hamlet near Dorking, in the beautiful Surrey Hills AONB.
Surrounded by National Trust land with stunning views and The North Downs Way on our doorstep. It is a haven for walkers, cyclists and nature lovers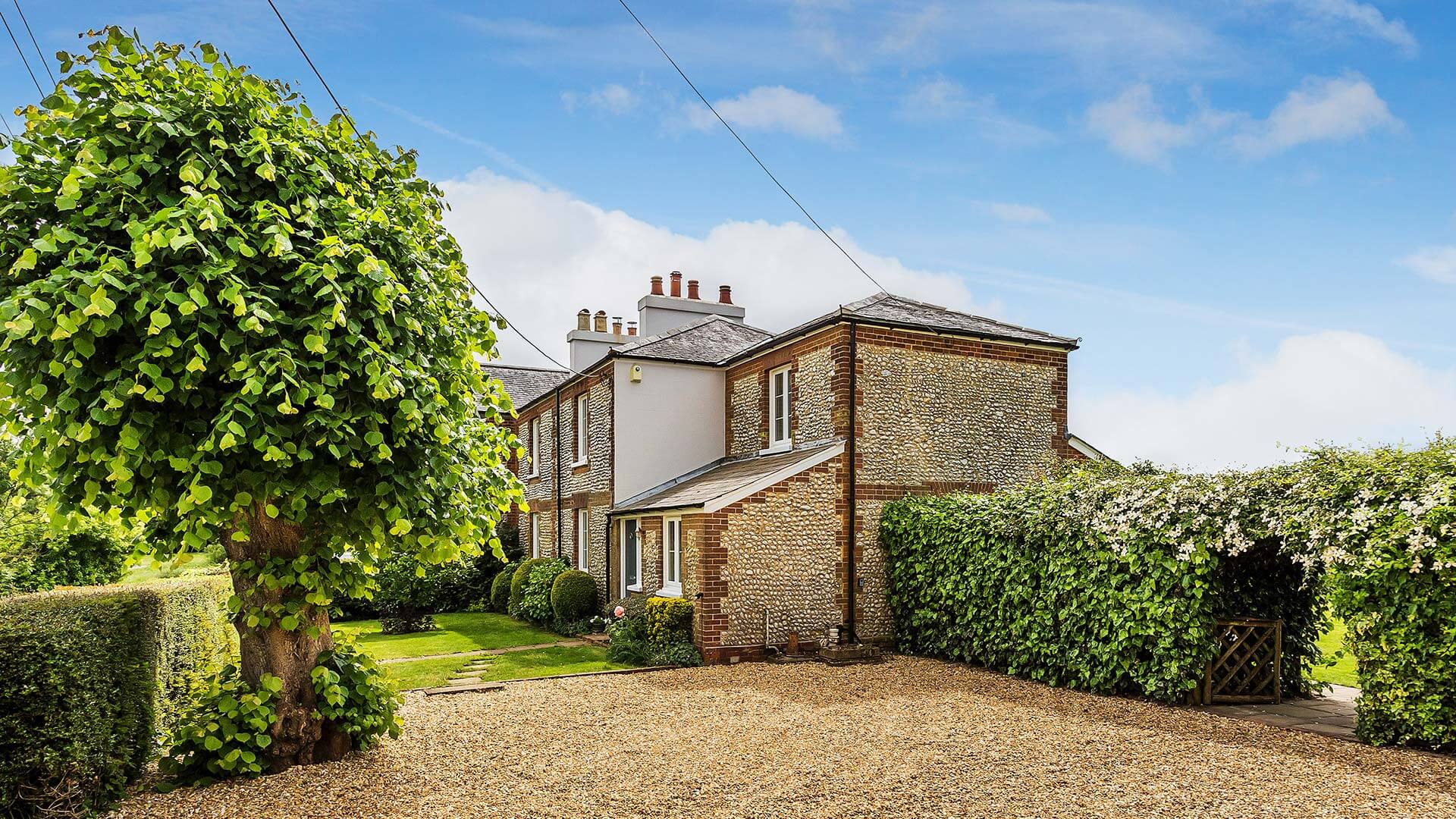 Lime Tree Cottage
Stylish Cottage with Panoramic Views Over the Surrey Hills
2 Lime Tree Cottages is a 4 bed, 2 bathroom cottage built around 1880 and was formally an estate worker's cottage on the Denbies Estate. A subtle palette of soft greys and off whites are used throughout the cottage, creating a restful…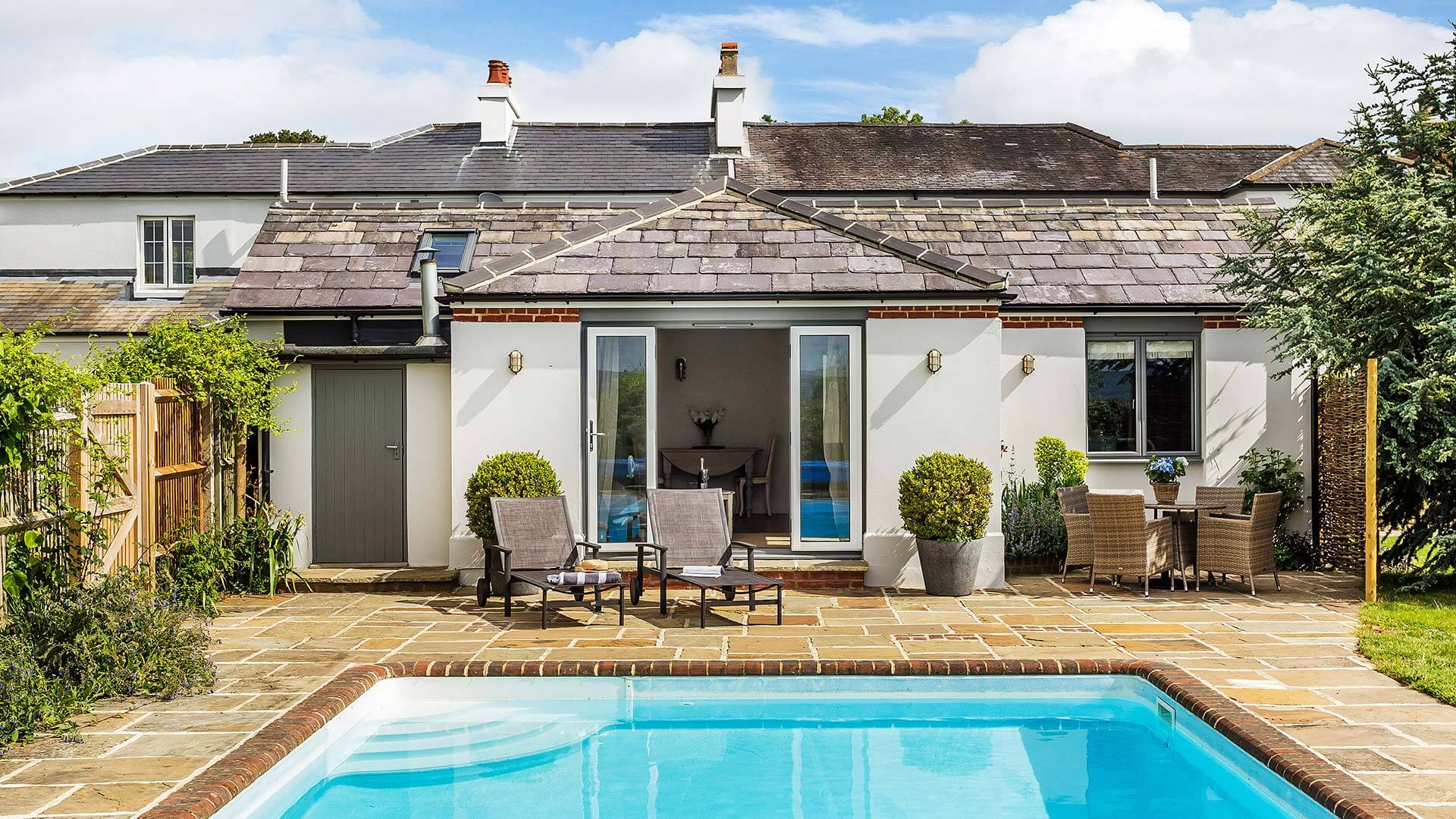 The Nest
Garden cottage with outstanding Surrey Hills views
Nestled in our quintessentially English cottage garden, The Nest is a brick and flint cottage which has recently been renovated to a very high standard with Modern Rustic interiors. The Nest has an open plan Living/dining area with TV, Netflix…
What can I say, this was one of the best air BnBs I have stayed in. Everything was amazing and so well thought out. The space itself was very new, clean and stylish. I was so happy to have good cookware, a Nespresso machine, access to the beautiful heated pool on the door step. But it was also all the little touches, like the little natural bath products provided and all the eco friendly cleaning products. The location was amazing – that view! And an easy enough 20 min walk down the hill into Dorking. Julie and Damian were fantastic hosts! Would highly recommend
Julie's place was just perfect. Cosy hideaway for a few peaceful days with absolutely stunning views over Leith Hill. Brilliant walks right on the doorstep and a wonderful retreat at the end of the day! Hope to stay in the summer to use the pool!

Nick


3/01/2020

Julie is a wonderful host, The Nest is absolutely beautiful, such a peaceful location, highly recommended.

Tofu


1/02/2020

The Nest is the most peaceful, smart, cosy, clean and luxurious little cottage-apartment we have had the pleasure of staying in. We felt instantly comfortable and at home, everything has been so well thought out and no detail has been missed. Beautiful toiletries, wonderfully comfy bed and a smart little kitchen with everything you need. It was in fact hard to leave the Nest each day! The views are also completely stunning - a great bonus. Perfectly easy parking too. Would highly recommend!

Amber


12/27/2019

The Nest was an amazing stay. It was peaceful and beautiful space, and has been designed to perfection. Everything from the kitchen utensils to the shower were of fantastic quality, and the view from the room topped it all off. Its also right next to many countryside walking routes.

I would highly recommend to anyone who's looking for a peaceful weekend away!

Riya


12/08/2019

Beautiful location and wonderful little house with full amenities - a lovely well designed snug.
We enjoyed cooking in the kitchen and the views were stunning. Walks are great nearby! Check in/out was easy. Highly recommended!

Julia


11/01/2019

The Nest is situated in a gorgeous place with fantastic views over the Dorking countryside.Surrounded by nature and wildlife is the perfect place to put on the breaks,sit back and relax!Is tastefully decorated and you can feel that Julie and her husband took time and care in creating this lovely environment.They are great hosts and go over and above to make sure that you have all you need to enjoy your stay.We can't wait to go back when the weather it's warmer to have a deep at the gorgeous pool!

Vitor


10/27/2019

Stunning location, great decor, fully kitted out and great hosts! Have no complaints whatsoever. We stayed for a couple of days and went hiking and though it rained we were very comfortable inside post walks....Julie was also very accommodating to our late check out. Will definitely be going back!!!

Vanda


10/17/2019

Great relaxing stay at the Nest! Julie was a great host giving us tips for local restaurants and allowing us to enjoy the pool despite the changing weather!
We highly recommend this place!

Dove


9/25/2019

Thank you so much for hosting us - we are absolutely in love with your place; It's even better than the pictures!
It was sparkling clean and we loved the privacy near the swimming pool. The whole weekend was such a treat and not to forget the fantastic views. What an amazing location, we looking forward to visiting your cottage again. Thanks Julie and Damian!

Djalal


9/22/2019

Both Julie & Damien were incredibly friendly, helpful & really speedy with answering any questions that I had. The place was lovely & the scenery was gorgeous. Would defintely go back again!

Christian


9/01/2019

This cottage is just stunning and even better than in the pictures. We had a lovely getaway here and were lucky enough to have good weather so could enjoy the wonderful pool, which was a real treat. Julie and Damian are incredibly friendly and accommodating and even unpacked our groceries for us when our Ocado delivery arrived early! The property is just a few minutes away from some beautiful country walks overlooking luscious green valleys. There is also a winery nearby but we didn't get a chance to visit it.

We would definitely recommend this place for anyone looking to get out of the bustle of the city and unwind. Thank you again Julie and Damian!

Milti


8/30/2019

What an amazing place to relax for a few days. A wonderful, well equipped property with everything you could need in a beautiful location surrounded by nature and country side. It felt so secluded and Julie and Damian were available if needed but otherwise we had total privacy. The views from the garden were stunning and laying on the sun loungers enjoying the view after enjoying the heated pool was bliss. There's lots of nice places to eat nearby, but we mainly enjoyed cooking in and eating out on the patio al fresco. The Surrey Hills are a lovely part of the country and the Nest is a great place to enjoy it from .

Chris


8/23/2019

The cottage was absolutely beautiful and maintained to a very high standard. Julie's communication was excellent throughout and I would highly recommend this cottage to anyone.

Lynsey


8/18/2019

We had an amazing stay. A perfect relaxed private getaway in beautiful surroundings. The nest was immaculate with all the facilities needed to be self sufficient.
The host was really thoughtful and gave us our space. Highly recommend

Clare


8/12/2019

If you are looking for an amazing place with stunning views, sparkling clean with modern new, facilities and furnishings, surrounded by beautiful countryside, quiet and private then this is for you.
Just a magical place in every respect.

James


8/10/2019

Thank you so much to Julie and Damien! The Nest is a lovely little annex with gorgeous views, lots of privacy and is perfect for a mini break. My husband and I spent two nights there for our wedding anniversary and thoroughly enjoyed ourselves. I would highly recommend it for anyone looking for a quiet, relaxing break where they want to switch off and chill. It's clean, it's beautifully decorated and still has great access to the local town (Dorking) for any amenities.

Henny


8/04/2019

A truly beautiful view from The Nest. The facilities are are very modern and stylish. The pool is an excellent size and offers great privacy.

Sarah


7/28/2019

I read a review comparing this cottage to soho house in regards to the decor etc.
It's far better than that. Every little detail felt luxury. (Special shout out for the shampoo/soaps etc!)
Julie and Damien were great hosts, and on hand with speedy replies to any questions we had.
My wife and I enjoyed a super private, super peaceful 2 nights by the pool, with incredible views and no noise at all - and just 50 mins from central London!
We enjoyed a beautiful walk through woodlands and fields into the town where there were plenty of country pubs / shops for supplies.
10/10 will book again.

McGale


7/25/2019

We really enjoyed our stay at this handsome abode. the decor was something out of Soho House, we we loved it! Well thought out destination giving you all the privacy you could want. Julie and Damien are great hosts, they're there when you need them and give you privacy throughout your stay. Will definitely book again!

James


7/21/2019
Contact Us
If you'd like to find out more about staying at the Surrey Hills Cottages, please put your details in the boxes below and Julie will be in touch.